On July 1, 1918, Sheikh Ahmed Deedat was born in India. Hoosen, Ahmed's father, fled to South Africa shortly after his birth, leaving the newborn Ahmed and his mother behind. Hoosen didn't see Ahmed again until nine years later when he sent for him. Look into this topic to learn more about Sheikh Deedat.

Join Now to Get 2 FREE trial classes
learn Quran online
Ahmed Deedat
Ahmed Deedat, a Muslim missionary and polemicist who lived from 1918 to 2005, was one of the most important Muslim missionaries and polemicists of the twentieth century.
In 1957, he formed the Islamic Propagation Center, and his discussions and writings are still widely read today.
Deedat's technique and logic affected other renowned Muslim polemicists in the twenty-first century.
"He [Deedat] can barely qualify as a 'thinker' in an elite, academic sense," one writer writes. On the other hand, his effect is likely to be far higher than academically qualified thinkers…"
Shaykh Ahmed Hoosen Deedat was born in the Indian city of Sirat in the year 1918 CE, and his father immigrated to South Africa soon after.
His mother died when he was nine years old, and he moved to South Africa with his father, where he spent the remainder of his life.
Ahmed Deedat made his first appearance in a discussion in South Africa in 1977 CE and later in the Royal Albert Hall in the United Kingdom.
Clark, Jimmy Swaggart, Anis Shuroush, and others were among the renowned Christian clergy with whom he debated.
The Muslims gained from this and confirmed their faith in Islam and the Qur'an, as well as learned about the distortions and deception found in other religions.
Some Christians who Allaah guided profited from it as well.
After a long battle with sickness, the daa'iyah Shaykh Ahmed Deedat died away and met his Lord on Monday, August 8, 2005 CE, at the age of 87, in his residence in Verulam, KwaZulu Natal, South Africa.
The biography of Ahmed Deedat
The Islamic Propagation Center International in Durban, South Africa, has produced a biography of the late Ahmed Deedat, a prominent Islamic scholar who successfully confronted top Christian preachers in public discussions.
Hafez Shabir Basha, manager of IPCI, which Deedat founded in 1957, recently presented copies of the biography to Ahmed Tiktik, vice president of the Islamic Development Bank; Awadh Salem Al-Asaime, director of the Special Assistance Department; and Essam Fadel Al-Shanqiti, manager of the division for special assistance projects. Mahomed Khan, the liaison officer, accompanied Basha.
During his visit to the IDB, Basha presented a presentation on Deedat and IPCI's significant contributions to promoting the Islamic message.
The Special Assistance Department arranged the event.
Sheikh Deedat, the son of a poor Indian tailor in KwaZulu-Natal, advanced from a salesperson in a distant rural grocery shop to become a renowned Islamic propagator, Al-Asaime stated.
He claimed that thousands were crammed into lecture rooms around the United States, Europe, Australasia, and the Middle East to hear Deedat in the 1980s.
Deedat questioned leading evangelical Christians on their interpretations of biblical teachings, always willing to dispute and discuss.
Hundreds of thousands of copies of his leaflets, books, movies, and audio recordings have been distributed worldwide, according to Al-Shanqiti.
Ibrahim Mohammed Masood remarked: Many of us remembered that beautiful person who had done so much to preach the message of Islam to millions of people throughout the world.
Deedat's arguments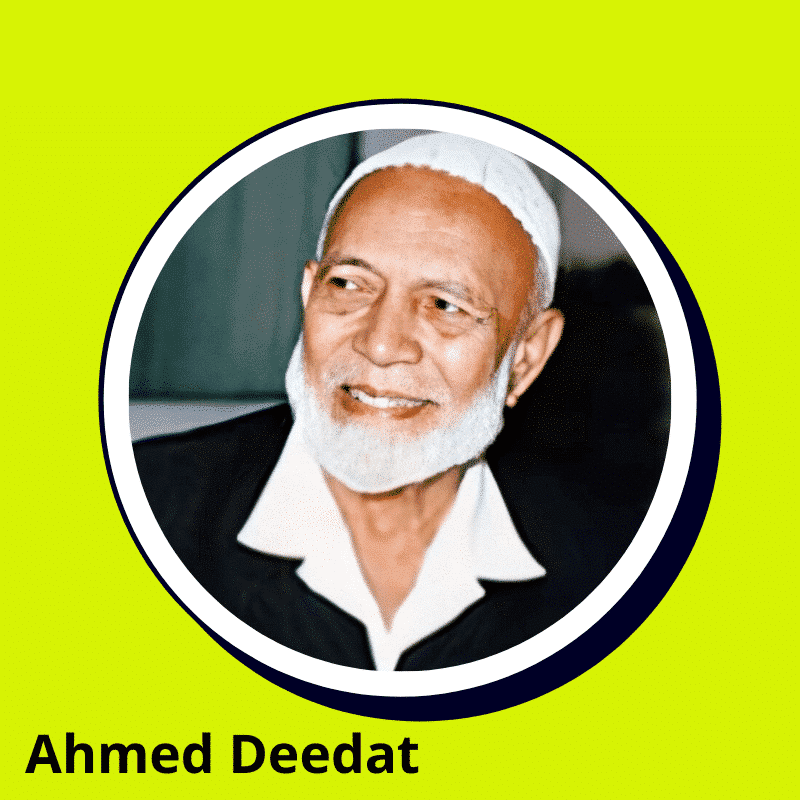 Even though Deedat was not a member of the Ahmadiyya sect, he reasoned in the Ahmadiyya tradition, claiming that Jesus was crucified but did not die.
Christian John Gilchrist shared an insightful insight during a symposium based on Deedat's viewpoint.
According to reports, John Gilchrist asked the Muslim audience:
… we've heard Mr. Ahmed Deedat's Islamic point of view. Now I'd like to ask you: Do you trust what Mr. Ahmed Deedat said?
What does the Muslim belief in Christ, peace be upon him?
The Muslim faith in the Messiah (peace be upon him) is founded on evidence from the Qur'an and Sunnah.
One of the greatest Messengers is the Messiah 'Eesa (Jesus) – (peace be upon him).
Muslims believe that Allaah took 'Eesa (peace be upon him) into paradise alive and that he was neither crucified nor slain.
He will live until the Hour arrives, at which point he will descend to Earth and slay the Dajjaal, destroy the cross, slaughter the pigs, and reign according to Islamic shari'ah before dying – peace be upon him – like all other humans.
Imam Abu Muhammad 'Abd al-Haqq ibn 'Atiyah (may Allaah grant him forgiveness) said:
The ummah unanimously agrees that 'Eesa (peace be upon him) is alive in heaven and will descend at the end of time to kill the pigs, break the cross, and kill the Dajjaal; justice will prevail, and he will support this nation – Muhammad's government – and it will prevail as a result, and he will perform pilgrimage to the Kaaba, performing Hajj and 'Umrah, before Allaah.
3/143 Al-Muharrar al-Wajeez
The death of Ahmed Deedat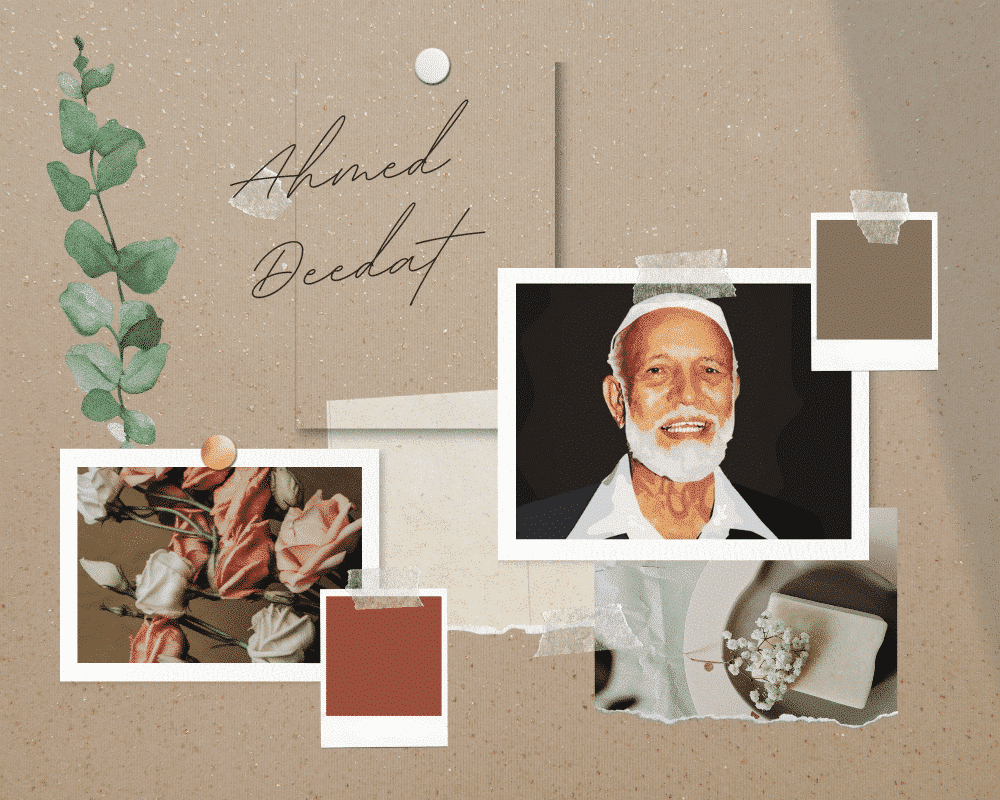 On August 8, 2005, Ahmed Deedat died after being silent and immobile for more than nine years due to a rare stroke he sustained in May 1996.
Deedat suffered a stroke shortly after a contentious trip to Australia.
Conclusion
It's no surprise that Shaykh Ahmed Deedat (may Allah have compassion on him) was accused of being a Qadiani by the kaafirs because he considers them all to be kaafirs.
What's remarkable is that jealous or uninformed individuals misinterpret some of the shaykh's comments or, at the very least, focus on ambiguous terms.
Many of his statements on his religious views, attitude toward the Qadianis, and belief in the Messiah's crucifixion have been cited (peace be upon him).
Anyone who claims otherwise should fear Allaah and recognize that he is looking at ambiguous words, which he should interpret in light of other unambiguous comments, or that the Shaykh may have said some things for the sake of argument or quoted some of his opponents' statements to use them against them.
We pray to Allah to have mercy on Shaykh Ahmed Deedat, honoring him and elevating his stature.
And Allaah is the most knowledgeable.
Read More: Sheikh Ahmed Deedat, Passes Away