How to memorize Quran fast? | Get 3 FREE trial Classes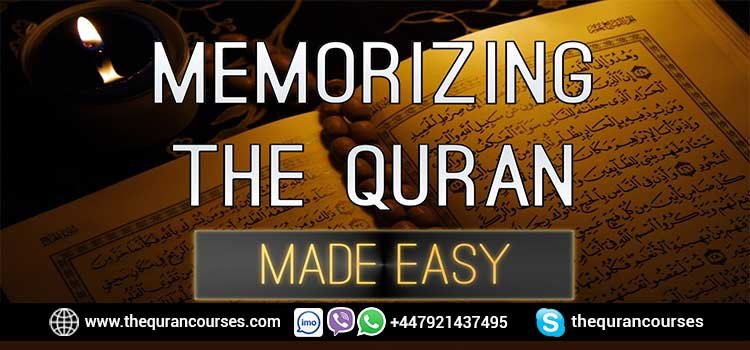 How to memorize Quran faster with The Quran Courses Academy made easy.Memorizing the Quran is an excellent virtuous act. It will intercede for the one who memorizes it and will also act as prevention for him to enter Hell-Fire. According to Ahadith, it is also narrated that Allah will never put a person in Hell-Fire who has a part of the Koran in his heart.
The golden age, as described by the classical scholars, is between the ages of 5 to 23 years. Certainly, the golden age is the best time to memorize the Quran because it is the peak of a person's memory. This age factor is an excellent bonus and an aid for those who wish to memorize the Quran and should be used by the person immediately.
Quran Memorization Plan
The Best 10 steps for how to memorize Quran:
Here are 10 simple steps to follow a person to quickly and effectively memorize the Quran:
1. Al-Ikhlas – Sincerity
The first step to facilitate the memorization of the Qur'an is sincerity. The person must memorize the Quran for reward and please Allah. Do not show, aim to impress others or get a job (for example, like Masjid's Imam).
2. Correct pronunciation and recitation
Another factor that will help a person memorize the Quran is to correct the pronunciation and recitation of the Quran. This can be achieved by listening to a Qari whose style of recitation you like and makes you feel connected to the Qur'an.
3. Indicate the number of verses you wish to memorize daily
For example, commit to memorizing 3, 5, 10, 20 verses per day.
If you give yourself a target to memorize 3 verses a day, read the three verses you have memorized with the three new verses you are trying to memorize, for example. If you memorize 3 verses on a day, the next day you must memorize 3 other verses and repeat the verses you have memorized the day before.
Another tactic to memorize the Quran is to repeat the verses at any opportunity with Tajweed (tune). The tajweed will cause the person to appreciate the air of recitation, allowing the person to memorize this verse.
4. Do not exceed the limit of your day
If you have pledged to memorize 5 or 10 verses a day, do not exceed it.
Entrust yourself to a regular number of verses that you want to memorize every day and do not change this template.
5. Memorize from a single copy of the Quran
This is because, in every Quran, the disposition of the worms is different. If you memorize a single copy, you will have a mental picture of the verse in your mind, while if you try to memorize many different copies of the Koran, it could cause difficulties and difficulties in memorizing the Qur'an.
6. Understanding is a mechanism of memorization
Understanding the verses will certainly increase memorization and also Khoshoo (ritual fear and concentration) during Salah.
7. Do not skip to another chapter until you finish the chapter you are on
Memorizing the Quran in chapters is the best way to memorize the Quran as it will be easier to remember where you stopped last.
8. Do not listen to you all the time
It is advisable to recite in front of someone who is Hafiz ul Quran (who memorized the Qur'an) as this will benefit Hafiz and he will correct him on the mistakes he is committing.
9. Continuity – Always recite to yourself, wherever you are
It was reported that the Messenger Muhammad (saw) said that the Qur'an would come out of a person's tongue faster than an unbound camel. Be sure to constantly repeat the Quran wherever you are, for example. By bus, traveling, relaxing at home, etc.
10. Identify worm models
The Quran is Mutashabihat, which means it has a pattern. The verses often look and look like each other, which is an excellent help to memorize the holy Quran.
Quran Memorization Schedule
Quran Memorization
The Quran Courses Online Academy presents a program of memorizing the Quran for Muslims around the world who wish to memorize the Quran but do not have the means or the time to travel. The Hifz program takes place online with qualified and experienced teachers with Ijaazah.
There will be separate teachers for men and women.
Now you can start to learn to Memorize the Quran and to recite the Quran with Tajweed online via Skype with the best online Quran and Arabic tutors from Egypt with us. We will offer you 3 free trial Lessons to try our service.
Mahmoud Ahmed
Like Slam Aleikm. My name is Mahmoud Ahmed . I am an experienced Tajweed and Quran teacher online. I studied at the Quran Academy of Education and I had Shatibiya Ahasem Hafs Quran Ejaza and in another way it's called Rawdatualmoadall. I am a professional teacher of Tajweed and Quran. I have been teaching Quran and Tajweed online since 2014. I work at Studio Arabiya Center to teach Quran and Tajweed to non-Arabs. . I can teach, Tajweed or Qur'an at all levels: beginner, intermediate and advanced; and in all age groups too, from children to adults.
Sara Mahmoud
Qualification: I hold a Bachelor of Arts and Islamic Studies – Department of Arabic Language.
Peace, mercy and blessings of God, I am a Quran teacher for 13 years teaching a simple way for each level in mosques of Egypt and institutes. I have worked in the field of the Quran to non-native speakers for 10 years. Where I worked at the Institute of Andalusia in Nasr City as director of the Quran since (2003-2005), I opened a mother house of believers to teach Arabic and Quran to non-native speakers. -natives since (2005 – 2007) and worked there with all nationalities, then I gave distance education to the Sisters of France only in the period (2008 – 2010) then I taught remotely through a world institute for teach the different nationalities of the period (2011 – 2013), and then I gave classes in mosques and schools of Cairo to teach Arabic language and until 2016 I teach online courses of Qur'an and of alphabets by noor al bayan.
Laila Ahmed
Umar (RA), said: "I proceed: Learn Arabic because it is part of your religion and learn obligations because they are also part of your religion. My mission is to spread the Arabic language as much as I can among Muslims all over the world and to teach them to read the Holy Qur'an as stated by the Prophet Muhammad (PBUH): the best of you who teaches the Qur'an and learn it. And because of my experience in teaching Arabic and Tajweed rules, I will be able Insha'Allah to make the whole learning process easy and interesting for you and if you learn Arabic to understand the Qur'an, we will focus on the words that are repeated in the Qur'an, so that you will be able to understand many verses in a very short time. I also have an experience in Tafseer Juza'a Amma in English language. I taught adults and children around the world from different nations. I hope you enjoy your lessons with me.
Zahraa Ahmed
Assalamualaikum
My name is Zahraa Ahmed, I live in Islamabad.
I did MSc. In Microbiology from Karachi University, I attended my religious education at the Al Huda International Foundation for Wellbeing (Taleem-e-Deen and hadith classes in 2014) since then I taught Allah Almighty ALHAMDULILLAH.
Other than that, I'm good at English. I also memorized part of the Quran and wish to complete my hifz,
For me, the Quran is life … if you understand it.
Ayat Ahmed
My name is Ayat Ahmed and I am a teacher of Arabic as a second language (ASL) for women and children only.
I am a native speaker of Egypt. I have been teaching Arabic to students of all ages and levels around the world for over 4 years. I can help you improve your conversation as well as your general Arabic. I like to make learning as fun as possible. I use a variety of materials in the lesson such as ebooks, websites, videos, songs ….
My experience put me in touch with many types of people. I have the experience of being able to help you by setting your goals and then helping you reach them.
My experience is 4 years old. I worked as a face to face teacher and online.
In professional courses, I teach: –
1-standard modern Arabic: from start to finish.
Colloquial 2-Egyptian: from the beginning to the end.
3-specialized Arabic: Arabic Koranic, Arabic media, Arabic for business, Arabic for those who work in hospitals.
4- Arabic for children, I use for them special books that help them learn Arabic more easily way .
Adam Ali
It is  Adam Ali , teacher of the Egyptian Quran with Ijazah (authentication) of the recitation of the Quran with the ten ways of recitation.
I memorized the Holy Quran and learned the rules of Tajweed with many teachers, which gives me a great knowledge of the rules of tajweed, both theoretically and more important in practical terms.
I also have a Master in Fiqh AL Sunnah, which gives me a very good knowledge of Tafseer, Hadith, Fiqh and all Islamic sciences.
Our Prophet Muhammad (SAW) said: "The best of you are those who learn the Quran and teach it to others".
I wish to be one of them.
Muhammad Ashraf
Assalamu Alaykum warahmatullah, am Muhammad Ashraf , a Quran haafiz in different riwaayaat.
I have been working as a Qur'an teacher since May 2015. I speak English very well and have experience teaching recitation, Hifz and Tajweed.
I am enthusiastic and energetic to deal with every type of student. It would be a pleasant and productive experience for me and for the students. I am motivated and assured myself and I have also worked in leadership positions and demonstrated effective skills and leadership.
Omar Shaker
Assalam u alikum!
I memorized the Holy Qur'an (Hifz) and received professional training on Recitation Skills (Qiraat), thus obtaining many masters Hifz and Qiraat Competitions.com in Islamic teaching (Tafseer and Hadith). I taught individual lessons for 9 years in which I taught Tafseer, Hadith, fiqah, memorization, recitation and Arabic. Professional experience of more than 9 years in the direction of Islamic and Hifz courses, Brief explanation of the Qur'an for various age groups and professions, including students, lawyers, doctors, etc. Conduct of several courses on short courses.
Moaz Ali
Quran teacher online with six years of experience teaching children and elders; taught Quranic reading, memorization, tajweed, arabic madeenah and Qaidah. I am a holder of ijaza and a graduate of the university. I focus on quality and my students are satisfied and happy Alhamdulellah with me
Mahmoud Yousef
I am Hafiz and Qari. I teach recitation and Tajweed and I worked in Madrasa Tadrees ul Quran as a teacher of Quran and also as imam. After that, I work at Tarteel ul Quran Academy as a teacher and also as a coach Alhamdulillah. I am a child-friendly teacher and good for adults to teach the Holy Quran. I hope you will get satisfaction by learning with me.
How to Memorize Quran Faster