Arabic classes for kids is the best and most effective way to teach Arabic for kids and Quran to the kids. The Holy Quran is the word of Allah and it is considered a very important book for Muslims. Every practicing Muslim must learn and understand the Quran. Allah communicated to the Muslims through the Quran with the help of the Holy Prophet Muhammad (SA). It is also one of the main sources of sharia (moral and legal code by which Muslims should lead their lives). Therefore, it is vitally important that children belonging to Muslim families learn the Quran and Noorani Qaida from an early age.

Join Now to Get 2 FREE trial classes
learn Quran online
In today's world, it becomes really difficult for Muslims to find guardians who are trained and qualified to teach their children, not just the language of the Quran, but also its essence of it. This site provides basic learning and knowledge of the Quran for kids.
Learn Arabic Online for kids and Adults
Nowadays, more and more people are migrating to countries where Islam is not the state or the primary religion. In these non-Islamic countries, the need to teach the Koran to young children belonging to Muslim families arises and it is quite difficult for parents to find qualified teachers who can teach the Quran Online, the Quran Learning Academy for Kids also solves this problem.
Online Arabic Classes For Kids
Parents can also monitor the classes without disturbing both the child and the teacher. This website also provides individual instruction. The need to send children away from the premises of their home is no longer necessary. This is a great advantage for parents who do not have an Arabic tutor in their place. The ease of flexible schedules, ie classes can be organized after mutual consultation between teacher and parents. Parents can discuss the content of what is taught to their children with the teacher. Parents can also opt for the Tajwid, translation, and Tafseer programs for their children. Quran but also its interpretation.
If a child acquires the basic knowledge of the Quran from an early age, it becomes easier for them to follow the teachings of Islam in adulthood. The Quran's online courses offer many benefits to working parents who can keep their children in check. It eliminates logistical problems, synchronization issues, and, in some cases, security issues, as well as some parents, might have.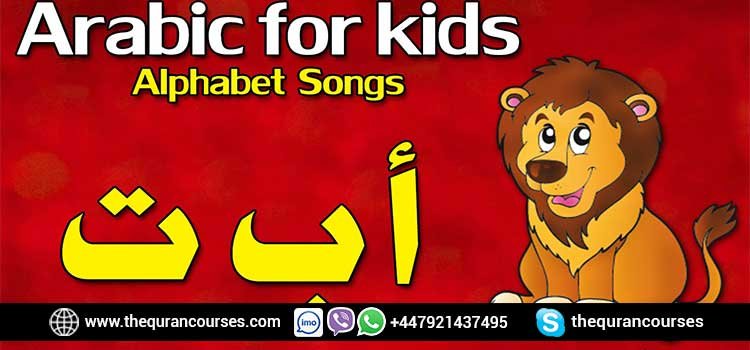 Why Should Your kids Join Arabic Classes For Kids?
There is no doubt that childhood is one of the hardest and most accurate stages for parents dealing with children. This phase instilled a lot of habits and attitudes and behaviors within the hearts of children.
will provide you one-to-one online Quran classes for kids with experienced tutors because it's very necessary at this stage to educate our children on the things that benefit them, which is not something the greatest benefit of keeping the child of the Holy Quran, especially since childhood to be the ability to greater conservation and continue with the child for a longer period.
But are there certain ways and methods we followed with our children while memorizing the Quran? In this course insha'Allah, we will try to assist the children to learn and recite Quran.
Online Arabic lessons for kids
One of the biggest challenges faced by non-Arab Muslim parents – especially those living in non-Muslim countries – is teaching their children to read and write properly in Arabic, as it is the language of the sacred book of Allah and the master key. to understand the religion of Islam.
Parents dream of teaching the Arabic language to their children to help them study and understand the Quran and the Sunnah of the Prophet (SAW), to preserve their Islamic traditions and identity, to be in touch with their Arabic roots, and to be able to communicate with their loved ones or simply to expose their children to new cultures by teaching them a rich and fascinating language such as Arabic.
But serious hurdles arise in front of parents when trying to find the most suitable Arabic course for kids that helps them learn Arabic in the fastest and most effective way. The most important thing is that it is quite difficult to find a well-qualified Arabic teacher for kids nearby. Also, in most cases, it is expensive to have a native speaker who has years of experience.
Fortunately, The Quran Courses Academy has the perfect solution to your problems with a team of highly qualified native tutors and totally affordable fees. At The Quran Courses Academy, you can find the best online Arabic course for your children with specialized programs and programs that perfectly meet your child's individual needs to master the Arabic language and immerse yourself in its magnificence.
Our Arabic course for kids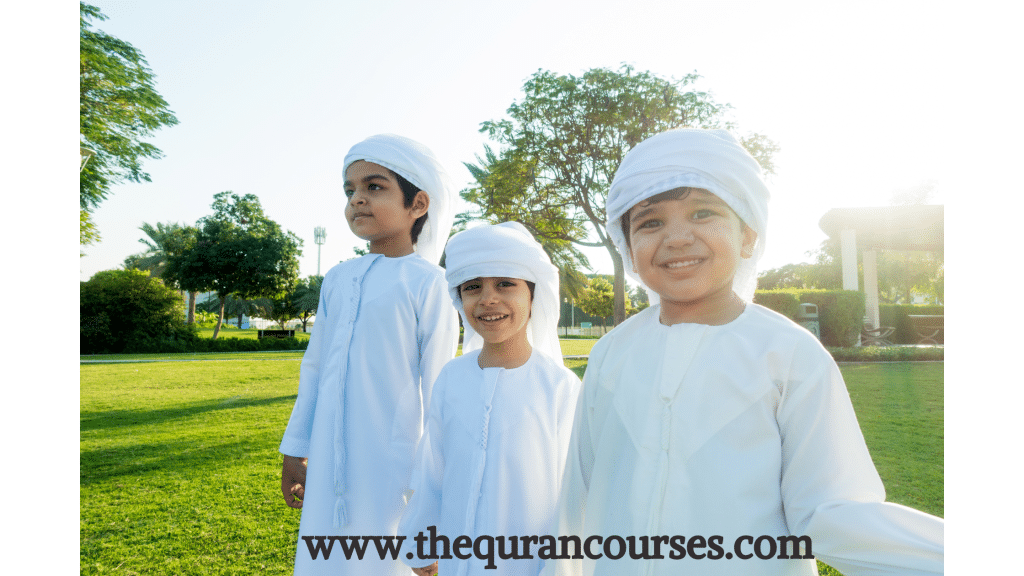 Our online Arabic lessons for kids are specially designed to cover different levels and ages in the best way for your child to read and write correctly and correctly in Arabic. Our process of teaching Arabic to kids is so enjoyable and engaging because we believe kids tend to follow when what they're learning is fun and connected.
At the end of this course, your child will be able to easily and spontaneously read any Arabic text, because we use the most effective teaching methods and the best materials to learn Arabic such as Noorani Qaida and the book Nour Al Bayan. All your child needs to read any Surah of the Holy Quran correctly is to learn Tajweed rules and recitation tactics only.
Start for FREE
What makes The Quran Courses Academy the best choice for your children?
Specially designed material
Our online Arabic lessons for kids are specially designed to provide your children with the exact skills they need to master the Arabic language. We have devoted rigorous efforts to provide you with the best teaching materials that cover different levels and ages and meet the individual needs of your children.
Fun and engaging atmosphere throughout the course
At The Quran Courses Academy, we believe that the most effective and easiest way to teach Arabic to a child is to represent the learning material in the form of games. This tactic plays a vital role throughout the process of teaching a child Arabic and is very important as it makes children enthusiastic about their Arabic language lessons.
In our Arabic classes for kids program, your child will learn the Arabic alphabet from scratch, the connected form of letters, the different types of Tashkeel (Arabic diacritics), and much more in the most enjoyable and fun way!
Accept young children
Children's brains are like sponges. This is mainly why the effect of learning in childhood is like a stone engraving because their minds are still fresh and they learn faster and more efficiently than adults. Additionally, research shows that people who start learning to speak Arabic – or any other second language – at an early age seem to develop much easier and more effectively than older learners.
The Quran Courses Academy is therefore more than ready to accept your very young learners as we offer online Arabic courses specially designed for them. We believe that children show a greater capacity for learning when the learning process begins at an early age.
Highly qualified native tutors
Undoubtedly, there can be no successful Arabic lessons for children without having well-trained teachers with the necessary experience and skills, as they are considered the most important factor in the educational process.
The methods used by teachers to impart Arabic lessons to children can entirely affect
the performance and improvement of their students. At The Quran Courses Academy, you can find a competitive variety of native Arabic teachers who are dedicated to teaching the language of Islam correctly and effectively.
In addition to this, most of our teachers are certified by Al-Azhar which is one of the most prestigious and authentic Islamic and Arabic learning institutes in the Islamic world. Each children's tutor for learning Arabic has years of experience in the field of teaching children and non-Arabic speakers.
Join Arabic Classes For Kids for FREE
Affordable fees with the highest quality
One of the biggest challenges parents can face is how to learn Arabic for kids.
find a good Arabic course with affordable fees. They are often concerned about the cost of having a native Arabic teacher for their children (which in most cases is expensive). However, our goal at Riwaq Al Azhar is to offer the best online Arabic course for your kids with perfect quality and reasonable rates.
Free trials for our course Arabic Classes For Kids
Regular weekly and monthly reports
As we believe that assessing our students' progress can encourage them to stay motivated and productive and drive their progress forward, we have a special tracking system to assess our students' improvement in Arabic and the progress they perform in reading and writing throughout the course. We distribute weekly and monthly progress reports to parents, allowing you to track your child's performance during their online Arabic lessons for kids.
Flexible hours
Our schedules are super flexible to fit your availability at any time of the day and make it easier for you to learn Arabic online for kids. You can set the schedule that works best for you and your family's needs, without worrying about scheduling conflicts and with the most affordable rates!
Objectives of the Arabic course for children
Connected form of some Arabic letters
It is believed that stimulating children's brains and developing their curiosity about what they are learning are some of the most effective methods of providing information and making them learn Arabic for kids effectively.
As we all know, children need to be curious about what they are learning to keep up with and retain newly acquired knowledge, and that is exactly what we do at Riwaq Al Azhar with our best online Arabic lessons. for children.
At the end of our special course, your child will be able to:
Recognize any Arabic letter in different shapes and positions.
Differentiate between heavy letters and light letters.
Pronounce all the letters with their Arabic diacritics (Tashkeel).
Read whole words and sentences correctly and spontaneously.
Say general greetings and how to introduce yourself.
Learn general conversation topics.
And much more!
What are you waiting for? Contact us now and sign up for our special online Arabic lessons for kids and let your child start learning such a crucial and interesting language!
Arabic classes for kids with Native Arabic Speakers
Join now to Learn Arabic Online with Mai Adel for the Best Arabic Classes For Kids and Adults
Join now to Learn Arabic Online with Mahmoud Gomaa for the Best Arabic Classes For Kids and Adults
Questions About OurArabic Classes For Kids and Adults
How can I take online Arabic classes?
Just 4 simple steps to start Online Arabic Classes
Browse our Arabic tutor's list & choose your ideal tutor
Book 2 free trial online Arabic classes
Enjoy the free trial then choose the schedule you prefer
Submit your payment and get started
What is the easiest way to learn Arabic?
Easy 5 steps to learn Arabic Online
Register with us
Choose days and times
Book 2 Free trial classes
Try 1 or 2 teachers
Start learning Quran from your home
How much to learn Arabic?
we offer the best and most affordable price for Arabic students just $3 per class
Plan A $40 Monthly 
Plan B $50 Monthly 
Plan C $60 Monthly
Plan D $27 Monthly